| | |
| --- | --- |
| | Hiroshima Prefecture is Japan's largest lemon producer. The lemons that have been bathed in plenty of the sunlight at the Seto Inland Sea are known for their high quality. "Setouchi Lemon Chuhai" is an alcohol for which the juice of lemons grown in Hiroshima has been diluted with vodka and a minute amount of carbonate. This chuhai - attractive for its minute amount of carbonate that bubbles appropriately and its refreshing sweetness - is also recommended for women. |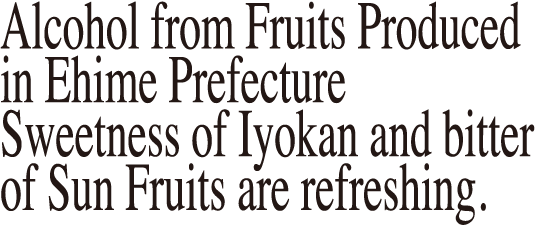 Ehime Prefecture, blessed with the gentle sea breeze and sunlight of Seto Inland Sea, is a famous place for citrus. "Setouchi Iyokan & Sun Fruits Chuhai" is a drink that is stuck to the citrus fruit juice made in Ehime Prefecture.
A well-balanced combination of strong sweetness Iyokan and little bitter Sun fruit juice, realize the adult taste not too sweet. "Refreshing taste and light texture" is achieved by dividing the vodka with fresh fruit juice and a fine carbonate, and is well received a favorable reception from a wide range of generations of women.